Blood Cell Analysis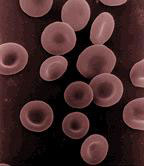 Live and Dried Blood Cell Analysis is used in observing and monitoring the state and/or dysfunction of the body's systems and organs. The tests are carried out by extracting a minute amount of blood from the fingertip.  The blood is then viewed through a high-powered microscope, linked to a video monitor allowing the client to view the blood during the analysis.
By observing the different components in the live blood cell sample and patterns in the dried blood sample, the analyst will then suggest an appropriate natural therapy.
Among the phenomena observed in blood cell analysis are:
The level of activity of the immune system.
The condition of the red blood cells, liver, kidneys, pancreas, heart, lungs, reproductive organs and other organ stress.
Detection of the presence of parasites, yeast and fungus.
Features associated with: arthritis, fibromyalgia, malabsorption of fats and proteins, vitamin/mineral deficiency.
A typical Blood Analysis will last 30 to 40 minutes and includes pictures of your blood along with a recommended program.
Visit our FAQ's for answers to your questions about Live Blood Cell Analysis.
Live Blood Cell Analysis & Consultation. To book a Live Blood Cell Analysis Appointment please contact me

Seminars – (Please call for pricing)

Cleanse Retreat Packages – price varies, please go to Cleanse Retreats for more details